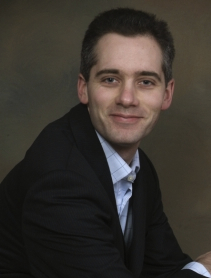 Paul Hedley
Towards the end of 2014, The Crown Singers were welcomed Paul Hedley as their Musical Director.
Paul Hedley's musical education began in earnest as a school chorister, and he has been singing at a high level since the age of seven in Chapel and Cathedral Choirs. Ten years in the Oxford choral scene, first as a Choral Scholar then Lay Clerk at Magdalen College, and involvement with many other choirs including Schola Cantorum, Ex Cathedra and Oxford Voices, was followed by time as a Lay Clerk at Gloucester Cathedral. Throughout this period he was developing his conducting, working with the choir of Merton College and several student ensembles, and as a stand-in for Gloucester Cathedral Youth Choir, Monmouth and Stroud Choral Societies, and numerous others. He now runs and directs the Oxford based professional chamber choir Musica Beata (www.beata.org.uk) with whom he has given recent concerts in St George's Church Worcester, Gloucester Cathedral and the Holywell Music Room in Oxford, and recorded a CD of secular British repertoire released on the Acclaim Productions label in 2012.
He has studied conducting with Peter Hanke and Jan Scheerer, and has a keen interest in the leadership aspects of conducting as well as the musical ones. He also has a PhD in theoretical Linguistics, is an Associate Fellow at the Saïd Business School in Oxford, and spent five years running the Three Choirs Festival.